I have to admit that I have a pretty big spice collection. Not only do we purchase mixtures when we're traveling, but if we see something fun and enticing while we're out perusing a gourmet food store, we'll grab it as long as it has a reasonable price point.
Currently, I have three spice mixes that have been on a constant rotation and, quite possibly, have been overused in our culinary travels. These three are simple without being overbearing and offer a mixture that our taste buds crave again and again.
This smoky mixture from World Market is our favorite for adding a big dose of flavor to simple dishes. While it is a rub, which is perfect for steaks and pork tenderloin, I often reach for it when spicing up simpler meats like chicken or turkey sausage.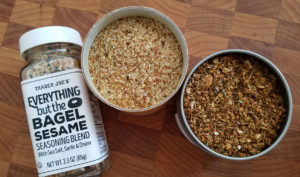 My favorite dish to use this spice on? Turkey sausage sauteed with red, yellow, and orange peppers and red onion over couscous.
Although Trader Joe's doesn't currently have a store in Myrtle Beach (please open one Trader Joe's!), any time I am near a location while traveling, I stop to buy a few jars of this blend because it is my absolute favorite in the morning! While yes you can sprinkle it on top of cream cheese on an everything bagel for the ultimate ever everything bite, the spice is great on baked chicken, with mashed avocado, or as a topper for popcorn.
My favorite dish to use this spice on? Sprinkled on top of gouda cheese on toasted multi-grain or whole wheat bread.
This rub was part of the Exploring the Lemon Seasoning Set, a collection by Beautiful Briny Sea in collaboration with Williams Sonoma. (Sadly, doesn't look to be available anymore!) This seasoning is perfect for baked lamb, on roasted vegetables, or to spice up a simple cucumber salad.
My favorite dish to use this spice on? Grilled shrimp and vegetables that have first been brushed with EVOO.
Do you have a preferred spice you enjoy cooking with?