This week has been hectic at Design & Word as we help launch a new brand and finalize a website for a gun grip manufacturer. I've recently had a few social media clients pull back their campaigns, so now I'm on the hunt for new projects. I want to find something a bit more creative and rewarding if I'm being honest, but what that is, I'm not sure. 
While it was warm last weekend, with temperature in the 80's no less, we set up our outdoor living space and on the deck and I'm genuinely pleased that it feels as if we're finally heading toward summer. Although, another chill set in on Monday, it's finally leveled out and the weekend should be beautiful and in the low 70's, thank goodness!
Shopping
Since Mother's Day is only a week away, I ordered these fun wristlets from Charles' Custom Creations for the grandmothers in our lives that have everything. I personalized them with their nicknames and a fun graphic. I think these will add a colorful and fun addition to the festivities. 
I also ordered five dresses from Target this week for summer and hope they are all winners *fingers crossed*. 
I think this Universal Thread Flutter Short Sleeve Woven Dress in Black will be an easy and chic option for date night, especially paired with silver hoops or my BR Design Co sea green, white, & black clay earrings and a simple clutch. 
For running errands and going to the park, this A New Day Elbow-Sleeve Knit T-Shirt Dress in Olive is a steal at $10 and will look chic with a simple sandal and my favorite everyday tote, the Mark & Graham Italian Raffia Flip Handle Tote in Camel. I love this bag so much, I plan to devote a post to it soon! 
Reading
I'm about halfway through the Lilac Girls by Martha Hall Kelly and I am slowly making my way through it. It's excellent writing, and the story is compelling- it's set during World War II and follows three women who are affected by the war in different ways: New York socialite Caroline Ferriday (a real heroine in history) who is trying to locate her love while helping French children from the US; Kasia, a Polish political inmate at Ravensbruck who eventually becomes one of the deformed 'Rabbits', and Herta, a German doctor who works at Ravensbruck and, in my opinion, has yet to have any redeeming qualities as of yet.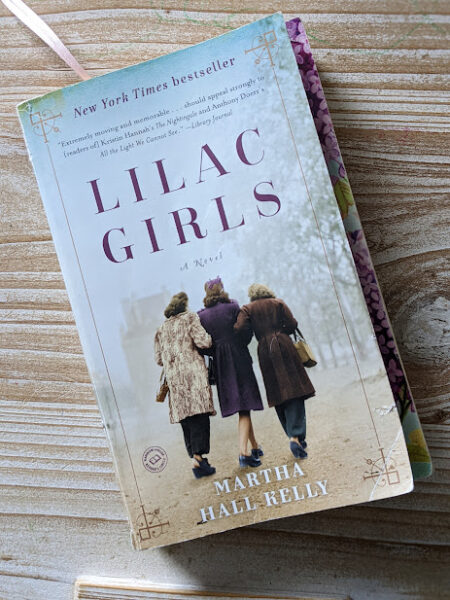 I highly recommend this book, do not get me wrong! I am finding it difficult to read because of what Kasia has to go through, so far, how Herta is involved, and how horrific the concentration camps were in how they treated anyone who wasn't full German. I know it's fiction, but it is based on fact. If anything, this book serves as an important reminder that we must never forget the impact of the Holocaust and to never allow hate to win. 
Watching
Mike and I recently watched Anatomy of a Scandal on Netflix. It was entertaining enough, but the real winner was Sienna Miller's wardrobe! Whoever dressed her was on point. 
I also just finished Sanditon and CANNOT WAIT for Season 3! I adore this show and signed every petition to help get it back on the air. I am ecstatic it was renewed for another season! When I heard that Theo James was not coming back as Sydney Parker, I was worried it's romantic dynamic would be gone, but luckily, Ben Lloyd-Hughes' Alexander Colbourne has been just as appealing!
Creating
This weekend, I'm hoping to knock out a few Cricut projects that have been collecting dust. We have two garbage truck t-shirt designs to finalize for our son, and I have a 'CIAO' tote that I have been designing in my head for ages. Think these projects will get accomplished?