As fall embraces the earth with changing leaves, cooler temperatures, and shorter days, snuggling up at home has never been more enticing. To welcome October- how is it October already?– we like to embrace a seasonal collection of nap time and bedtime stories.
Our three-year-old son is thrilled when he spots Halloween decorations amidst our neighbor's yards or realizes there is a ghost sitting just below our television, watching him with googly eyes. And he's genuinely excited to wear his bulldozer costume and go trick or treating, not for the candy, but for the excitement that is Halloween.
To incorporate the sweetness of the season, I've rounded up a collection of our favorite kids' books that we'll be reading throughout October and November!
One Leaf, Two Leaves, Count with Me!
In this adorable book, you count the leaves as they bloom and fall through the seasons. It's a great way to practice numbers while teaching how the world will change each spring, summer, fall, and winter.

The Gruffalo
This suspenseful tale about a mouse who uses his imagination to outwit predators is rhythmical and entertaining, perfect for creating a little spooky fall magic.

Little Blue Truck's Halloween
Beep, Beep, Beep! Little Blue Truck is on his way to a party and you're invited to guess what he and his friends are dressing up as for Halloween!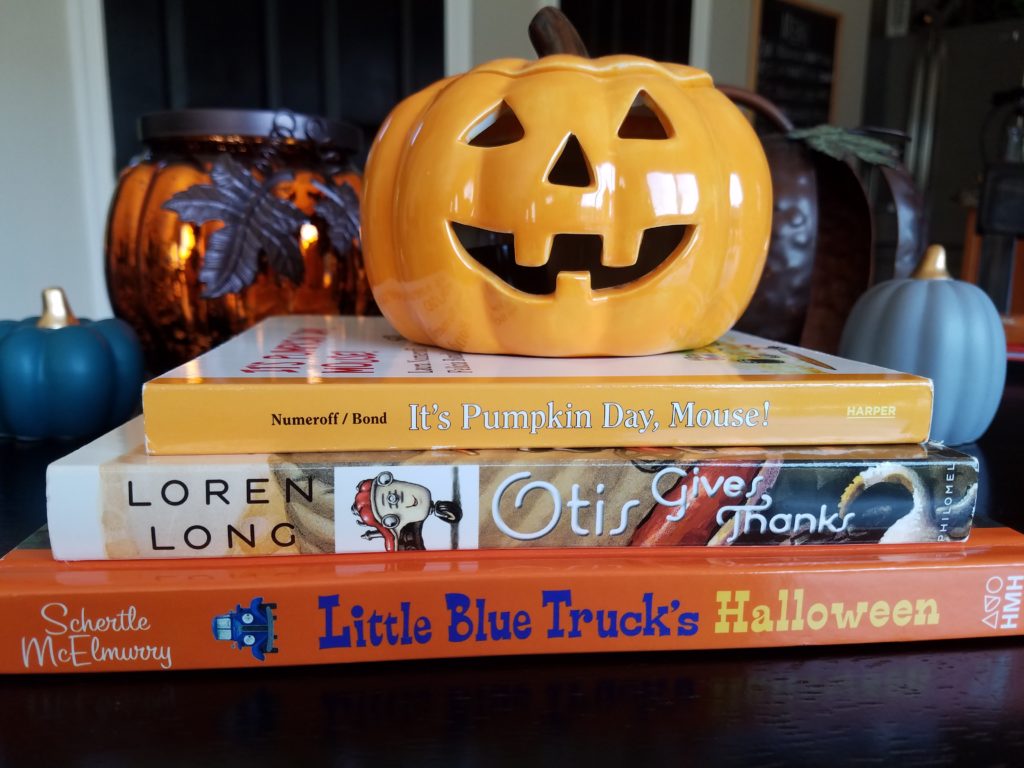 It's Pumpkin Day, Mouse
Mouse and his friends are painting all types of faces on pumpkins- silly, sad, and happy- as a sweet invitation to creating fun for Halloween.
Otis Gives Thanks
This is one of my favorites tales for Thanksgiving, and honestly, all year, as it serves as a good reminder to be grateful for all the blessings one has in life.
A Charlie Brown Thanksgiving
In this retelling of the popular Thanksgiving TV special, Snoopy and the Peanuts gang invite themselves to celebrate Thanksgiving with Charlie Brown who agrees to prepare a feast, even if he only knows how to make cereal.
What are your favorite toddler and kids' books for fall? Share with us!