I've always preferred to put pen to paper and when I do, nine out of ten times I reach for one of these pens.
FELT TIP
When I am organizing my planner I love to use different colors for lists, appointments, and tasks and these pens come in a selection of bright colors that make it super easy and fun.
Another fun option for creative color coding or drawing. These pens look a little more polished than the Stabilo, but they don't last as long.
GEL
Gel pens are my number one option for writing. I find the fluidity of gel to be the fastest and easiest way for me to take notes. The only downside to gel is it can run or smear depending on the type of medium you're writing on or if it's exposed to moisture.
I was influenced by several bloggers to try the Muji Gel pens and they did not disappoint. The barrel is very easy to hold and the ink output allows for smooth scribbling. I have them scattered throughout the house and car so that I am never without one!
This is a chicer gel pen, and I adore the orange because it matches the hue of our main company's color scheme. It writes just as smoothly and can be refilled, which is nice.
These deserve an honorable mention as I personally love the feel and grip of these, plus they are very affordable, come in a variety of colors, and are great for small hands to use when out and about.
BALLPOINT
I found my teal Ohto Horizon pen in a stationery shop in Charlotte, NC, and bought it on a whim and LOVED its unique shape, which allows for easy handling, and the side button release, which offers a satisfying click when you're finished writing.
I believe the Ohto GS01 is an updated design version (I can't find confirmation on this). This pen is just as weighted and feels the same in hand. It doesn't have the button release. Instead, you release the button at the top but does offer a smooth ink flow when moving across the page.
This is an easy, 'clic' worthy pen for keeping in your bag for easy notetaking or at the ready on your desk. It writes smoothly and is very lightweight. I scored my Calepino from Greer Chicago a while back but they are currently sold out. Amazon has a box of Bic's M10 original style available, which would offer a chic writing option for a small office setting.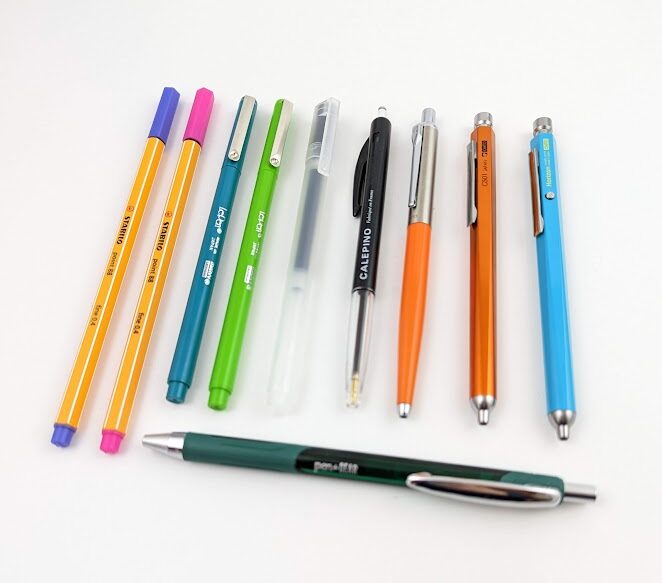 SHOP THIS POST
If you buy through one of my links, I may make a small commission at no cost to you. Thanks for supporting this blog!