I made this the other night for the family and it was too easy and delicious not to add into our regular rotation. It's not only super simple but comforting on cold winter nights.  

Please note: Beef tortellini is sometimes hard to come by, as it seems that cheese rules the grocery aisles, at least where we live now. I often buy Rizzo's Beef Tortellini at Shop n' Save, and since it is a family favorite, I often stock our freezer with bags of them during the winter. They cook easily and are versatile. Along with this bake, we enjoy them drizzled with EVOO and grated parmesan, or they make a great addition to simple vegetable and broth soup.

However, if you do prefer cheese or another filling combination, it will also work with this recipe!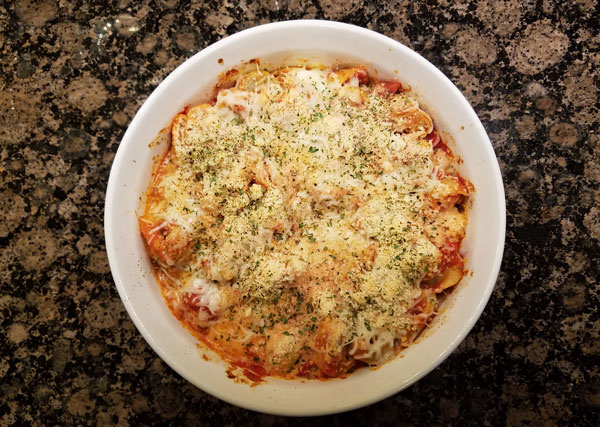 Ingredients

Two bags or 32 oz of frozen beef tortellini (you can substitute refrigerated or frozen cheese tortellini)
1 jar of tomato/cheese sauce, I often use one with mascarpone cheese
1.5 cups of shredded mozzarella cheese
4 TBS of grated Parmesan & Romano cheese
1 TBS of Italian seasoning
Parsley or fresh basil for garnish
Directions
Preheat oven to 350 degrees. Cook the tortellini according to the package directions, generally 3 minutes in boiling water for frozen tortellini.
Drain the tortellini, toss with the tomato sauce, and pour into a 2-quart baking dish.
Layer the top with the shredded mozzarella, Parmesan & Romano cheese blend, Italian seasoning, and pepper (if desired), evenly over top.
Bake at 350 for 10-12 minutes, or until cheese is melted and bubbly.
Sprinkle fresh chopped basil or parsley (dried will work too) on top to finish.
Did you make this? Share with me in the comments below your thoughts!